Featured Patient Stories
As doctors, there is nothing better than seeing our patients and their families feeling better and moving on. We are honored to share these stories of crisis and recovery with you.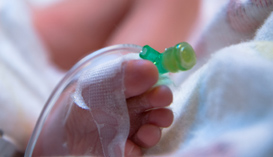 Tommy was just 2 years old when multiple trips to the pediatrician and the hospital for bruising and anemia led to the diagnosis of leukemia. Our world was turned upside down the day we were given the news by the pediatric oncologist at the hospital. Although Tommy was too young to understand what was happening to his little body, the roadmap through his treatment included many visits to the hospital for potentially painful procedures like bone marrow tests and spinal taps.
Fortunately for us, there were pediatric intensivists available to sedate Tommy so he never had to know the pain associated with his treatment.
Over the years, Tommy became very fond of one intensivist in particular, Dr. Burkowsky. Even though the procedures were the same each time we came to the hospital, Dr. Burkowsky always took the time to talk with us before the procedure, made sure our questions were answered and kept Tommy entertained as he prepared him for sedation. As Tommy got older, he would look forward to seeing Dr. Burkowsky whenever he needed to be sedated.
Today Tommy is cancer-free, and to look at him you would never know he was at one point so sick. We thank all of his doctors for the care he received, and we are very appreciative of everything Dr. Burkowsky did to make our journey that much easier.